I have been waiting a long time to post my newest project!!
Jen the master of payroll is having a little girl any minute now. When we discussed what I would make for her, she didn't know what colors or themes she might have, just that it was a girl and everyone was making her blankets. Well, far be it from me to go with the crowd.
The awesome part of the gift I don't have a photo for. Anna drew a wonderful and funny one page comic depicting the "little bunny foo foo" story. I was completely awed by her work and I don't even have an image to share with you. Sad. I'll see what I can do.
She made her comic based on the items I made for the baby.
A baby bunny suit with a hood and ears!
A baby bunny back end
The outfit is machine washable, but the tail is not so i attached it by button so that it could be easily removed for washing.
Baby bunny ears!!!
you can't have a baby bunny outfit without baby bunny feet!
Oh my god! Little toes!!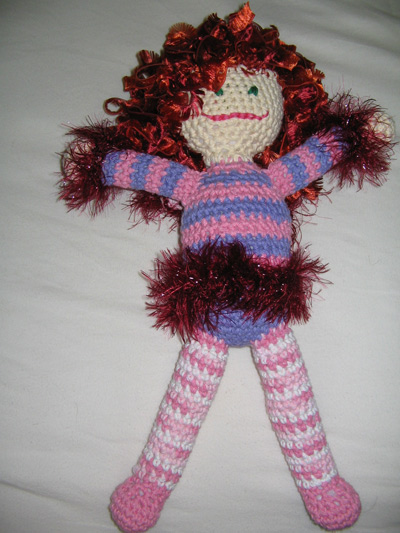 The good fairy that defends the mice and offends the bunny.
I even made little wings for her. I wish I had a better shot of her hair, it was pretty awesome if I do say so myself.
The goon! When you bop the mice on the head you get turned into a GOON!
poor, lumpy, misshapen goon
not only does he have a pointed head but she gave him a big butt as well.
But you know what they say: Hare today, Goon tomorrow!
I also made 3 little mice but forgot to photograph them. I am rather pleased with the entire set. All the patterns are my own original creations with the exception of the mice (that pattern was just so CUTE). I could not find a crocheted baby outfit that looked the way i wanted it to so I sat down and made my own. Let me tell you, it's one thing to design your own dolls and blankets, but clothing is an entirely different thing. This pattern took 4 iterations and killed 14 trees. In the end, it was exactly what I wanted.
And here are the dogs pretending to be tough.