Happy New Year from the French Quarter. It was crowded and lovely and amazing. We watched the gumbo pot drop (or more specifically, we watched people watch the gumbo pot, we were a little too far back) and we had our midnight kiss. Beautiful.
After the drop we headed over to the Carrolton Station in Midtown to drink in a slightly less crowded environment and watch the world's second worst cover band. We don't know who the worst is, but…I have to believe they exist.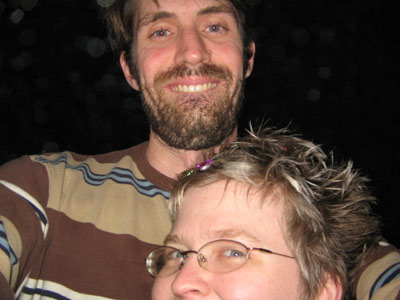 David and I at midnight. It's hard for us to take pictures with one of us holding the camera, he's so much taller than I am.
David and Marshall! For all the time I've spent hanging out with Marshall when I am down there and for all the time I've spent on the phone, I was surprised when I realized I had no picture of him (other than the lovely signed photo in my bedroom). Marshall got me a lovely ceramic pair of pigs that defy description. David's bringing them up with him, I'll post a picture when they arrive.
Every time I go to New Orleans I fall in love with it a little more. Couple more visits and I might marry the city! Next time, hopefully, the city will be in better condition.
Strangest thing I saw was a giant backhoe in the bayou near David's parent's house. Of course I forgot my camera so I have no picture of that or a picture of me in the bayou! Sad. If David has a chance he will try to get out there again to get some pictures.
Not much else to talk about, we didn't do much in the way of touristy things. It's funny how you can go on feeling like an adult in most things, but hang out on a twin bed with your boyfriend at his mom's house and you feel like you're 16 all over again. Later, Marshall came over and he hung out on the bed while David and I set up the Pictionary game and then I really felt like a teen. I wanted to sneak behind the house and drink a beer.
Okay, pictures posted, I'm off to crochet! Leter, peeps.