Daily Archives:
July 15, 2008
It finally happened! April got married!!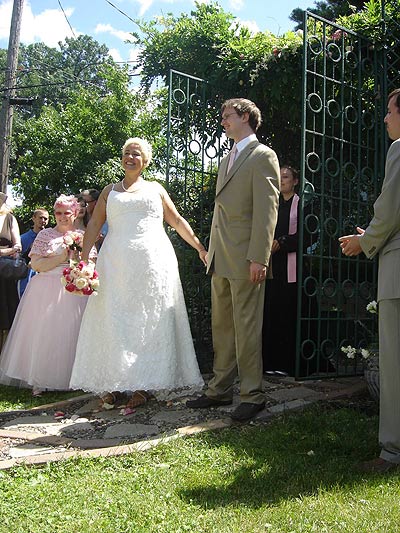 We could not have asked for a better weekend. The weather cooperated!
Saturday we had the open house at my dad's house. All friends and all family were welcome to join us in casually celebrating April and Keith. I ran David and Anna just ragged helping me cater the event. Oh, and Sky, I just thought you would want to know that I served the maple pecan salmon on crostini with orange ricotta. Lovely. There was also artichoke dip, stuffed baby sweet peppers, mushrooms stuffed with bitter greens and feta, also mushrooms stuffed with faux sausage, and probably a few other this and that.
Sunday, the wedding proper, it was perfect. April was literally glowing as the bride. I was so proud of her and happy for her. I love her so dearly and I am nothing but thrilled to know that she is sharing her life with Keith.
The wedding was mostly problem free and the few issues that came up we dealt with quickly. We decided we got to choose to be upset or happy and we didn't want to be upset.
For the most part people behaved themselves. Some seemed tempted to make a scene but they mostly restrained themselves to one on one kvetching. If there's one thing I learned from this whole experience (besides to just elope) is that no matter what you choose, there will always be someone that believes they are entitled to more.
It hurt my heart a little to know that there were people close to April who felt that way. But those people get what they give and I will let life take care of that.
More importantly, there are pictures!
These were taken on the best man's camera, mostly by my stepbrother.
These were taken by my stepmom and show both the open house and the wedding ceremony.
I'm easy to pick out, I'm the freaky fairy princess!
Congratulations April and Keith! You are awesome!